Birkbeck University of London Professional Services Workplace
Location: London, UK
Client: Birkbeck University of London
Timescale: Completed - June 2022
Size: 1,505m²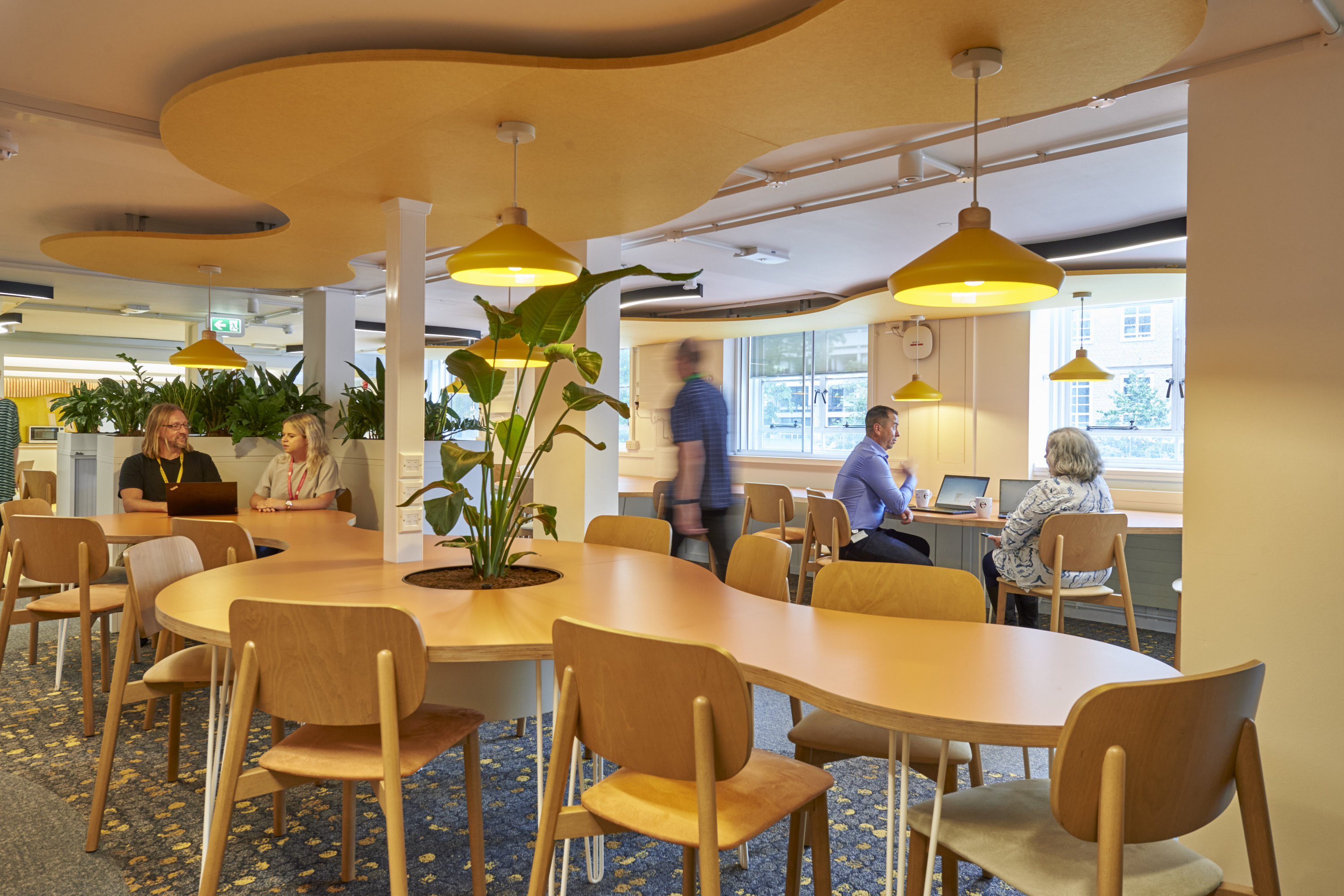 Delivered across multiple phases, the Professional Services Workplace project for Birkbeck University of London has facilitated the move to agile working for twelve departments. The project brings together staff from multiple buildings into a central location, providing a clear Birkbeck brand and identity. This new and reconfigured workspace accommodates agile desking, meeting spaces, shared social spaces, tea points, copy/print hubs, storage, lockers, quiet staff area and IT help desk. Overall the project reduced the floorspace required for Professional Services by 50% whilst providing a significantly improved working environment that has received overwhelmingly positive feedback from the Birkbeck team.
The new workplace is designed to be healthy and vibrant, delivering a mixture of collaborative spaces and desks for focussed work. The open plan design allowed natural light deep into the space, and we introduced assisted natural ventilation across all areas using customised and linked Dyson fans. We selected a warm material palette to ensure that the space felt bright, cheerful and generous whilst still working within tight height constraints. Plants were integrated into the interior design to promote team wellbeing through a connection with nature.
Tate + Co were the Architect, Space Planner and Interior Designer for the project. The team included KJ Tait as Building Services Engineer, Engenuiti as Structural Engineer, Sandy Brown as Acoustic Consultant, JGA Fire as Fire Engineer, and Beadmans as Quantity Surveyor and Principal Designer. The works were delivered by the contractors Metropolis and Overbury under a design and build contract.
Tate+Co's talented and responsive team helped us create and deliver a productive and vibrant agile workplace for our Professional Services teams. The spaces have received very good feedback from our colleagues, through our post occupancy evaluation, and we are really pleased with the positive impact the whole project has had."

Mary Whittaker, Estates Development Manager, Birkbeck, University of London