York St John University Creative Centre
Location: York, UK
Client: York St. John University
Timescale: Completed November 2021
Size: 3,014 m²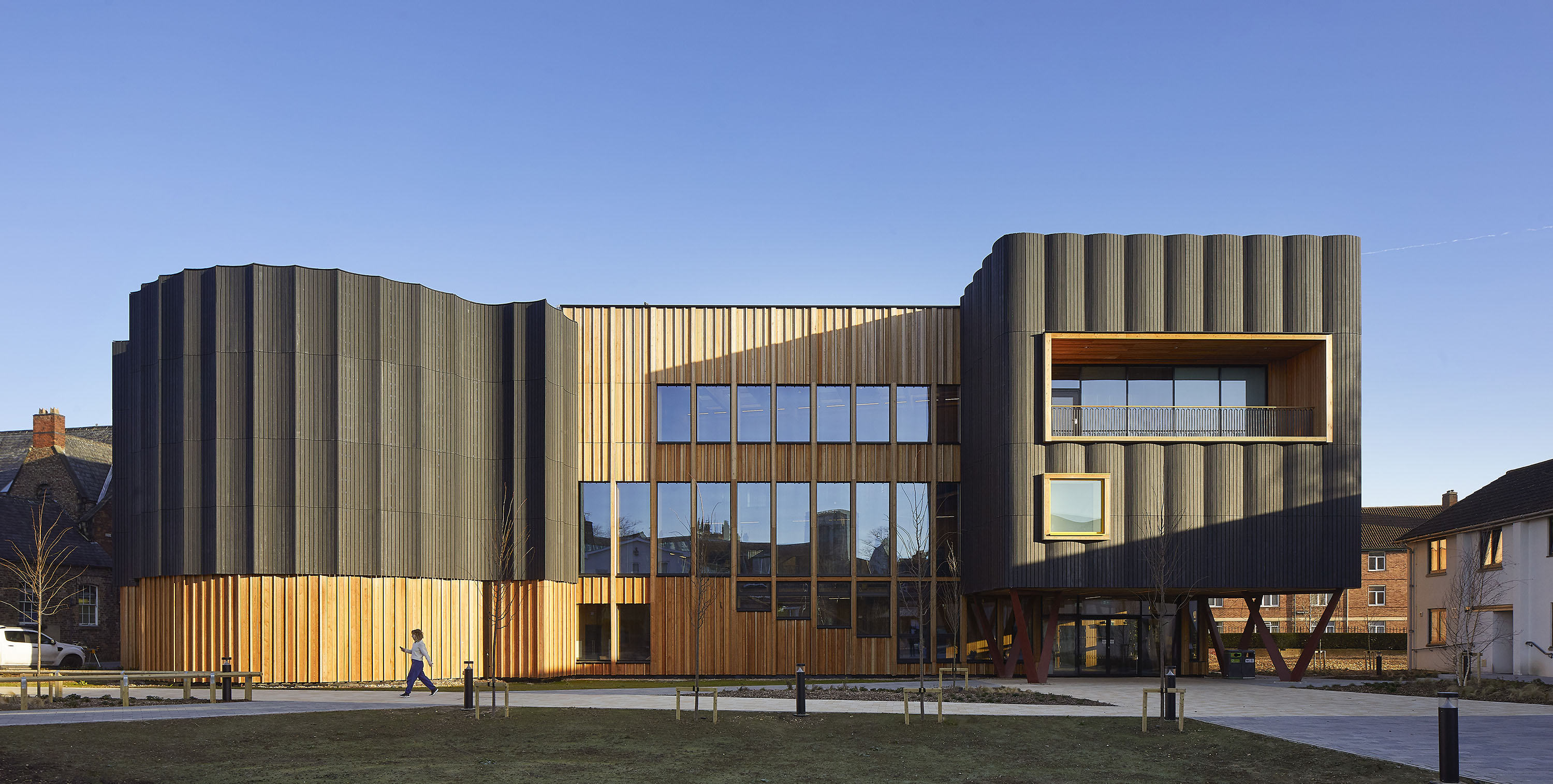 The Creative Centre for York St John University is a low-energy building that provides a permanent new home for the University's music and computer science courses, featuring specialist spaces for performance, creative writing and media production students.
Three main concepts formed the foundation of the design approach. First, it is a genuinely sustainable building, both in operational and embodied carbon terms, with a substantial timber frame and simple climate control. Second, the main atrium space unites all the building elements together, reflecting the latest thinking in higher education to create 'third spaces' for cross-disciplinary collaboration. Finally, the Centre makes the most of its proximity to York Minster connecting the University to the heritage of the surrounding city. Throughout the atrium, recital hall and critical listening room, views to the Minster are carefully framed, reinforcing this picturesque view across the stunning historic site.
Low embodied carbon materials, such as glulam and CLT, were used for the construction of the Centre, as part of a 'fabric-first' approach using Passivhaus principles to achieve a BREEAM Excellent rating. Working alongside environmental design consultant Atelier Ten, the project's eco credentials were achieved by using triple-glazing, making the building air tight, providing simple operation systems – such as openable windows – and a mixed mode ventilation system with both mechanical and natural ventilation in teaching rooms.
The building is extremely functional and flexible, for example the 2,000m2 of teaching space are column-free internally with modular servicing to allow easy re-configuration in the future should the university's requirements change. The 180 capacity auditorium was designed with SSV Theatre Consultants to facilitate teaching as well as performances, with a level access technical level. And the building connects to the natural environment through its use of natural materials and integration with a campus wide landscape masterplan which Tate+Co developed with Colour Landscape Architects.
Tate+Co were the architects and lead consultants for the project, employing the design team on behalf of the client. This team included MCAG/RLF as Quantity Surveyors, Contract Administrators  and Project Managers, Atelier One as Structural Engineers, Atelier Ten as MEP and Lighting Consultants, Colour Landscape Architects, McKenzie Town Planning, Sound Space Vision as Theatre and Acoustic Consultants and the Sensory Trust as Access Consultants. The building was constructed under a traditional contract by Kier.
What we set out to achieve was a striking and sustainable building to inspire learning at the heart of our Lord Mayor's Walk campus, and I would like to thank Tate+Co and their team for delivering just that."

Rob Hickey, Chief Operating Officer of York St John University