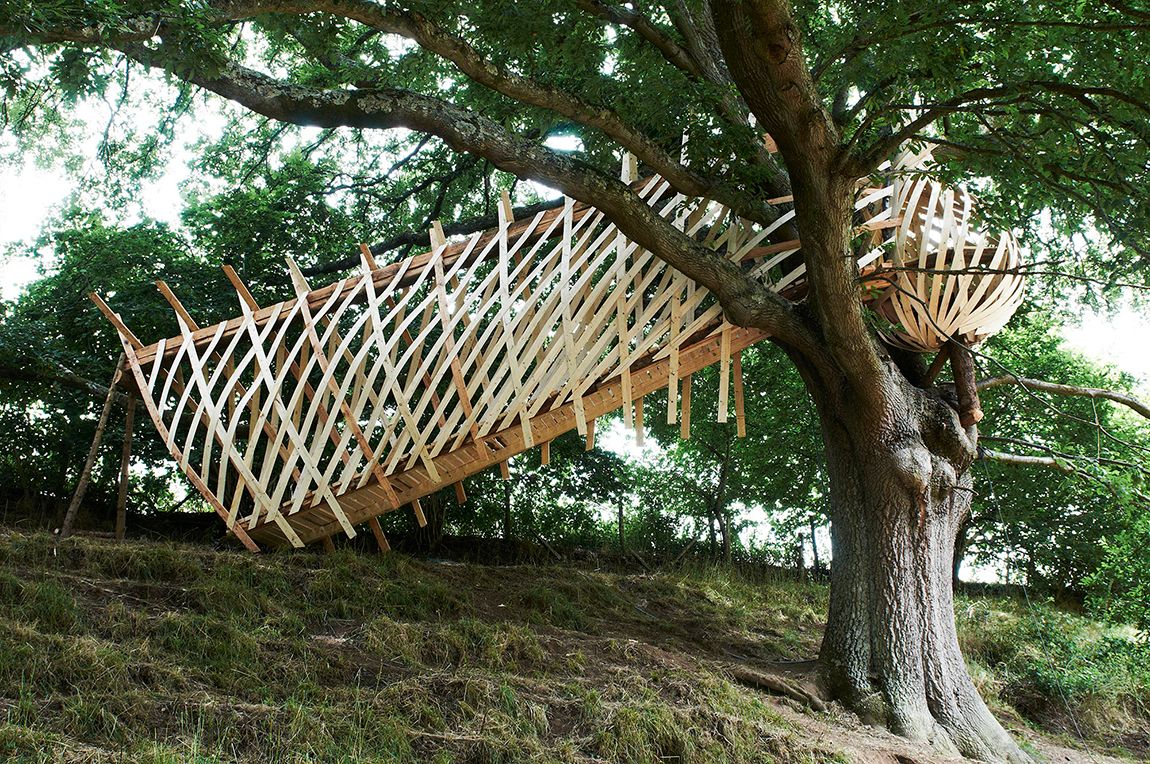 Dartmoor Arts is an annual residential one week course that takes place in Dartmoor, Devon. Tate Harmer have been involved in the programme since 2011.
In 2011, the brief was to design and construct a temporary storytelling space. The space was made from logs taken from trees felled on the site. It was an exercise in log construction using large scale tools and jointing methods.
In 2012, the brief was to design a temporary treehouse with 12 students as part of the 'Spatial Structures' course for the Dartmoor Arts Week, an annual residential one week course in Dartmoor, Devon. The treehouse was 10sqm circa in total including the walkway, and is constructed around an existing mature oak tree in a local farm. The walkway provided access to a 1.8m diameter 'pod' which has a circular seating element.
The treehouse was designed and constructed in a 5 day period as a collaborative exercise between students, a carpenter and an architect. All the materials were milled on site from locally felled spruce, larch and western red cedar. The majority of the treehouse is constructed from thin 'lathes' of spruce, some of which we made into glue-laminated ribs to give structural form and some of which we 'wove' into the structure to provide enclosure and further structural capacity. We also made a decision to avoid mechanical fixings into the oak tree itself and the new treehouse is held in position through its shape and positioning alone. There are only two fixings to the tree, with the majority of structural stability maintained by the shape and positioning of the structure.
This was probably the most important learning experience in my career so far."

Student on the Dartmoor Arts Course in 2015