Watergate Bay Hotel
Location: Cornwall, UK
Client: Watergate Bay Hotel
Timescale: Completed – June 2021
Size: 600 m²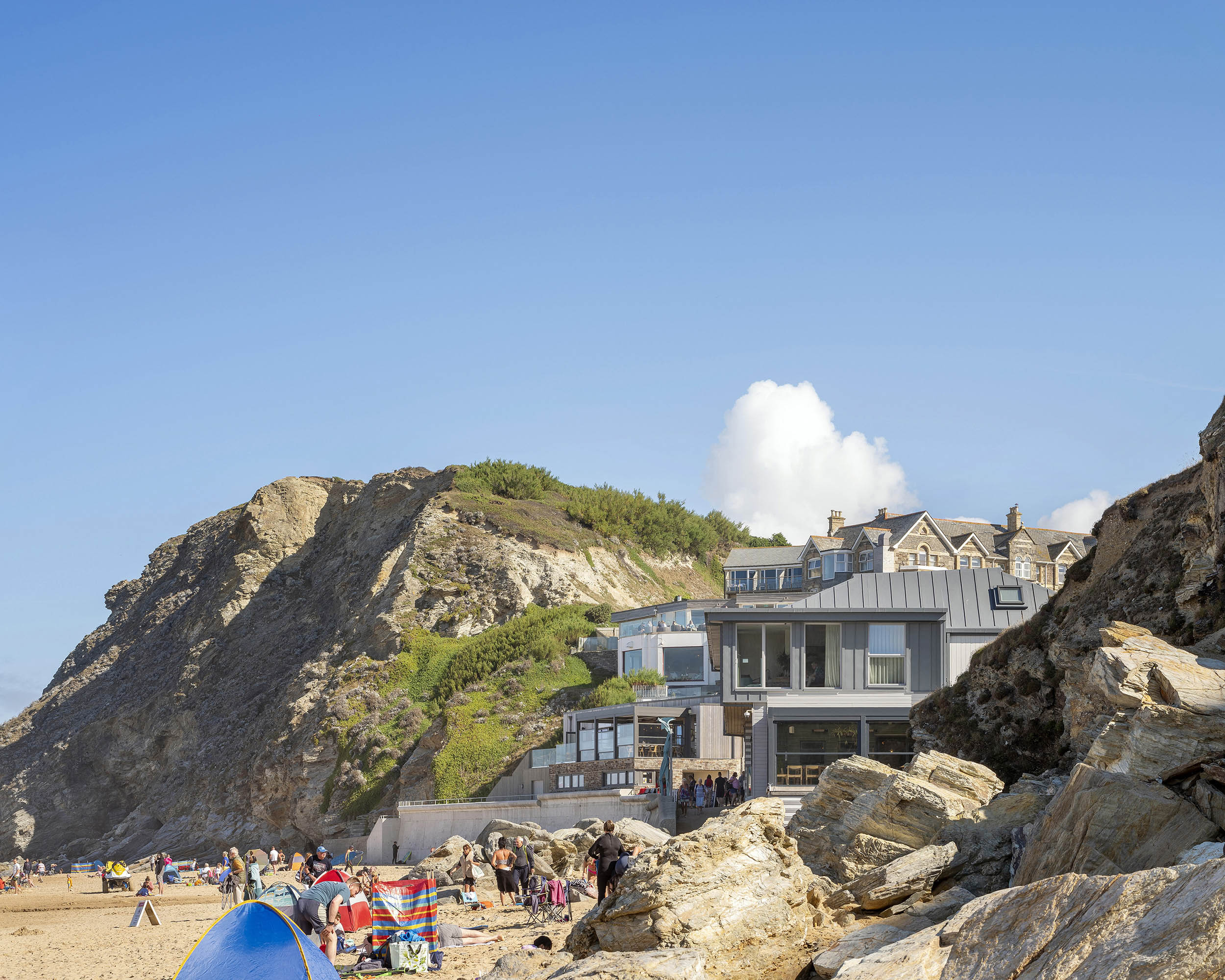 The Beach Lofts project at Watergate Bay Hotel delivers seven new spectacular suites with probably the best views and access to the beach of any hotel rooms in the UK. We worked with the interior designers Dynargh Design to completely transform a redundant beachfront restaurant. This re-clad the exterior of the building with robust materials appropriate for the coastal setting and created a series of cosy interiors with views across the bay.
Our design included some key adjustments to the existing building to dramatically improve how it fits into this beautiful natural setting. The ridge height was reduced to enable views from the public space above; the eaves height was raised to allow good views out from the rooms; and skylights were installed to bring daylight and natural ventilation deep into the rooms. We also significantly reduced the operational energy consumption of the building by introducing super-insulation and triple-glazing.
This project is part of a wider masterplan we have developed for the Watergate Bay Hotel to ensure they remain a leading hotel brand with the very best visitor experience offer. Our work with the hotel continues on other areas of the site with a series of future projects.
The Beach Lofts won the best renovation award at the Boutique Hotelier Awards 2021.
We're so pleased to see Watergate Bay Hotel occupy an existing structure and transform it into something completely new. The Beach Lofts provide incredible access to the beach and offer a great vista for guests who want to just sit back and enjoy epic views. Tate+Co have very cleverly reworked the existing buildings to create some extraordinary spaces. "

Will Ashworth, CEO at Watergate Bay Hotel